Education technology companies found in Covid a perfect opportunity to enter the mainstream. But what form of edtech will outlast the pandemic?
During the pandemic, education technology companies banked on the opportunity in contributing towards school education. (Source: Shutterstock)

NEW DELHI: When the Covid-19 pandemic struck and classes moved online, the Singhania Schools brought forward a project that was already in the works – Singhania Quest +. A mobile application for learning, it does not cover just the academic part of the school curriculum but also helps learn languages, offer training in dance and art.
"Before the pandemic hit, we were thinking of developing something like this, but the pandemic created an opportunity. Along with streamlining learning in classrooms, we wanted to channelize and engage with children so that they could be productive with their time rather than just play random games on their devices, "said Revanthi Srinivasan, principal, Smt. Sulochanadevi Singhania School, Thane, Maharashtra. "We set up studios where we created videos, introduced a 360-degree formula for learning which includes some kind of dance or adventure tool for children."
The pandemic's impact on education hastened the embrace of education technology – edtech – even in institutions that might otherwise have been reluctant or sceptical. Schools, most of them private, have used edtech services in a variety of ways – to create apps and online teaching platforms, subscription to existing edtech learning products to supplement classroom teaching, assessments and evaluation, admission counseling for admissions abroad.
On their part, edtech companies claim major expansion during the pandemic. iSchoolConnect, which uses artificial intelligence to facilitate admissions to foreign universities, has seen over 1.5 million website visitors and close to about 100,000 (1 lakh) users on its platform across the globe, in the past two years. Academic curriculum edtech Saarthi Pedagogy has added 400 schools to its business since 2020 and interestingly, seen interest rise in non-metropolitan cities. Toppr, which provides teachers training and online video conferencing services to schools, has added around 250 schools in the last two years.
Also Read |: NCERT Books: States preparing for NCF with surveys, discussions, misgivings:
Many paths of edtech:
Given the surfeit of edtech options, some schools chose to mix-and-match. The Somaiya School in Mumbai subscribed to Coursera, an open online course, or MOOC, provider for the latest courses; to Exam.net for online exams and assessments; and also to Correction, another platform, to ensure smooth correction of submissions:
by students.
Through the Exam.net platform, children were given an exam code using which they could open and write their exams. They weren't allowed to open any other window while writing the exam and if they did, the school would be notified, explained the principal, Parveen Shaikh. "We wanted to ensure that children sitting at home are learning and giving exams properly."
Also Read |: Fee Fighters: Schools have reopened but conflict over private school fees remains:
Training teachers, parents:
Most schools were initially saving costs by using free apps like Zoom and Google Meet and other video conferencing platforms. "Most schools used Zoom initially with training teachers to ensure they are comfortable using the tool. We did several training programs in groups, along with mentors. As we all have different levels of understanding, naturally it takes time to learn. Both teachers and parents were trained. Although everything would have been easier in-person, "adds Srinivasan.
Some edtechs offered training services to make the switch easier. Saarthi Pedagogy helped schools upskill teachers and motivate them to switch from offline to online. The training included getting access to data and real-time information on learning outcomes. "However, it took time to convince parents and teachers as they were accustomed to a set curriculum and set patterns. While the initial days were challenging, in due course of time, we were able to make it, "said Saarthi's founder and CEO, Sushil Agrawal.
"Almost 70-80 percent of schools are not ready to utilize any other services as the whole system is inclined towards an offline system," continued Agrawal. "It was easy for us to onboard more schools as our product matched the requirements of the schools." The biggest challenge schools faced was in evaluating learning – an aspect of teaching Saarthi works on. "We saw this as an opportunity and saw schools across tier II and III: [cities] getting onboard in the last two years, "said Agrawal. He finds 30% of his company business is in tier II and III which is a huge market for school edtechs.
Similarly, Toppr's School OS model trained teachers across schools to streamline online learning. "We hired several teacher training experts to train teachers across the private schools we partnered with, along with providing video conferencing services to conduct online classes. So far we have trained more than 10,000 teachers in these schools, "said Rohitashwa Choudhary, senior vice president, School OS-Toppr.
Also Read |: With board exams, Haryana shifting blame for systemic failures on children:
Government warning:
Along with the sudden increase in edtech use, came the complaints of malpractices, safety breaches and even outright fraud. The government has enthusiastically embraced edtech and even set up a platform, National Education Alliance for Technology (NEAT), to marshal resources.
In January, higher education regulators University Grants Commission (UGC) and the All India Council for Technical Education (AICTE) warned education institutions against offering online courses in partnership with edtech companies. From the schools' perspective, this was welcome. Regularisation is better, feels Shaikh, because the pandemic led to a rash of edtechs with poor quality courses and services.
Srinivasan agreed some checks are needed – courses should be authenticated by a good university, backed by good faculty along with interventions on the quality as well. "During the pandemic, several unauthorized courses and universities have come in for money-making, those have to be stopped. For that, we require a regulatory body that regulates the courses that are put online by anyone. "Even in terms of school online education, there has to be regulation to overlook the online material being circulated," she said. "Online learning courses are currently all about numbers and marketing. That should not happen because if we are looking at the education of the students of the country, we can not afford to have mediocrity or any low-quality education or courses. "
"Currently, there are over 1,400 edu learning tech platforms in India. But when it comes to service or learning facilitation, there are fewer tech companies in that space. The mandate is towards the learning side and also towards the disorganization these companies are bringing in. They are disrupting the entire learning space which is not aligned to a curriculum and has no set mandate. This is concerning the government, parents and students, "said Vaibhav Gupta, marketing and alliance head, iSchoolConnect Technologies.
Also Read |: Education ministry must explain why 49,000 schools dropped out of UDISE Plus: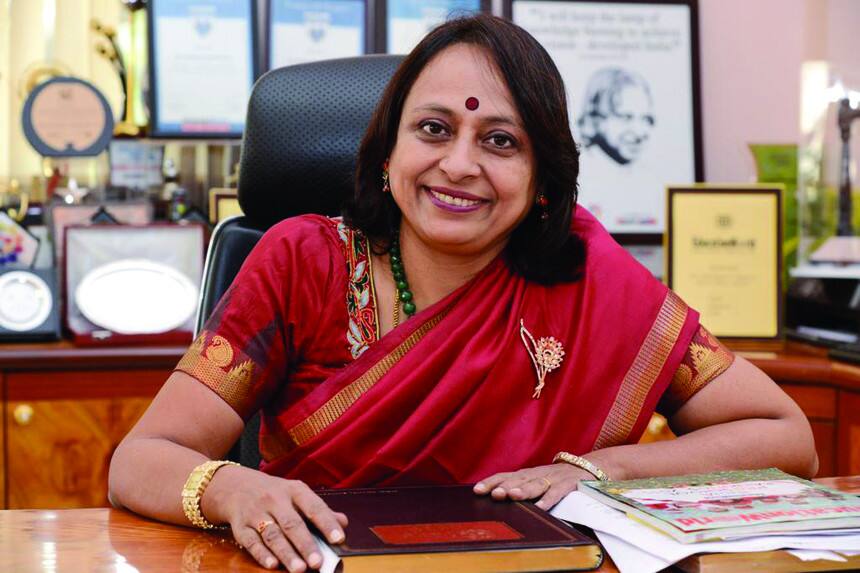 Revanthi Srinivasan, Principal, Smt. Sulochanadevi Singhania School, Thane, Maharashtra:
Blended classes:
The experience of conducting them during the pandemic has altered the concept of classroom teaching and learning permanently. And those changes are here to stay. Singhania's Quest + has connected education to basic conceptual understanding. "It is not content-based but concept based," explain Srinivasan. "It emphasizes the application of knowledge rather than just the acquisition of knowledge. Even the assignments that teachers are uploading are questions that make children think. Also, the purpose is not to score marks, which is the least of our concerns, but it is about learning and the application of concepts…. Classrooms will not be like earlier times, there will be some kind of blended model and children have access to content online. "
Even edtechs say they are not looking to replace classroom teaching but supplement it. "A lot of international universities say that we are offering online certification to students at much-discounted rates. Students are not keen to take the online certification or online courses because it's more about the experience, "said Gupta. "What they learn when they meet their peers, do practical experiments. This can not be achieved through online learning. I am certain that the last two years have been a black mark in the entire learning phase. There will be a question on the quality of students that will go out in the market as they'll be introverts, socially awkward, which is not sustainable for any country. Hence, ultimately post-pandemic schools, institutions will get back to classrooms in a big way but the caveat is ad-hoc learning through computers, edtech companies are going to stay with us beyond classroom learning. "
Besides, Agrawal believes that in the future, hybrid models of learning will prevail which will impact the overall growth of the education system. "Our product is made for both offline and online teaching and Covid has increased the importance of the product as its ultimate goal is to improve learning outcomes, whether offline
or online. "
Chaudhary, too, expects a hybrid model to finally prevail. "We know the classroom setting is here to stay. However, there will be times like the recent Omicron wave which led to the closure of schools again. So, it is not that online will not be required. We will see a balanced mix of both offline and online classes. "
Also Read |: Maharashtra Budget 2022: Music school named after Lata Mangeshkar, expansion of medical education:
Students' comfort and familiarity with the online education world will not be reversed either. "We do not see ourselves dumping all these edtech apps. Through these, we want to enhance the learning options for students. This is the way forward, "said Shaikh. "Students speak the language of the online:
world now. "
---
Follow us for the latest education news on colleges and universities, admission, courses, exams, schools, research, NEP and education policies and more ..
To get in touch, write to us at news@careers360.com.
More From Sheena Sachdeva: