Jurgen Klopp has called Manchester City boss Pep Guardiola the "best coach in the world" and says Liverpool will need a "perfect performance" to beat their Premier League title rivals when the pair to meet on Sky Sports' Sunday Special.
Ahead of City's Champions League quarter-final tie with Atletico Madrid this week, Guardiola joked he may have found the solution to the suggestion that he overcomplicates his tactics in the big games: playing with 12 players.
"In the Champions League I always overthink," Guardiola said. "I always create new tactics and ideas, and you will see a new one. I overthink a lot, that's why I have very good results in the Champions League. It would be boring if my job, all the time, we had to play the same way."

Sunday 10th April 4:00pm


Kick off 4:30pm

Klopp expects an engrossing battle at the Etihad Stadium on Sunday, live on Sky Sports, with his side having the chance to go two points clear at the top of the Premier League with a victory.
But he felt obliged to defend Guardiola after his light-hearted comments were taken literally by some sections of the media.
The Liverpool boss said: "It was ironic! I saw there was a story in Ecuador this week which claimed I didn't understand Luis Diaz. You have a responsibility on this planet. If you want to talk to us then please do us a favour and help us. Pep said ironically, 'I overthink, and I like overthinking'.
A look back at the best bits between Man City and Liverpool under the tenures of Pep Guardiola and Jurgen Klopp in the Premier League.

"Pep is the best coach in the world. I think we would all agree on that and it might be a coincidence that it didn't work out in the Champions League so far. If anybody doubts him, I have no idea how that could happen."
Klopp reiterated that respect for Guardiola and his team in an exclusive interview with Sky Sports' Geoff Shreeves, when he was asked what it takes to beat the Spaniard's sides.
The German has the best record of any manager against Guardiola, winning nine of their 22 meetings, but says his team will have to be at their absolute best to come out on top at the Etihad.
"You need a perfect performance," Klopp said. "You need to defend on your absolute highest level. There's no system in the world which can defend them as a system. But you can cause City problems if you have a good idea, good plan, good system and then top, top world-class players. That helps."
While City recently dropped points against a Crystal Palace side which had just 26 per cent of the ball and defended deep, Klopp is clear his Liverpool team will play their own game in Manchester this weekend. He believes it should make for another "fascinating" duel between the country's two top teams.
"There were other games where City struggled to win, they were still superior but couldn't break down a low block and stuff like this. That's football," said Klopp. "We struggle with that from time to time. It's the most difficult thing. The spaces get smaller and smaller and you still have the same amount of players to play against.
"We don't play like this, we will try to create ourselves, we will have our own possession phases. City has the highest possession in the league, we are not far behind. We have similar possession numbers. There are differences in our set up but there's not so much a difference as there used to be.
Sky Sports App: Download it now and don't miss a minute. It's the essential device this week as it offers you a second screen to watch the action on Sunday Special.

"Both teams go for counter-press, want to win the ball back high, we might press slightly higher, against us last time they let us step in a little bit more… It's interesting, it's fascinating from a pure football fan point of view.
"You have a look at it and the games against them were always interesting. It's good fun as well, we should not forget that. I really like it."
As well as the tactical aspect, head-to-heads between these sides also tend to serve up goals, with 19 scored in the last five.
There's a lot on the line this time – champions City lead Liverpool, who have won their last 10 Premier League games, by just one point heading into the meeting at the Etihad – but Klopp believes Sunday's encounter will live up to the top billing.
"Very often it doesn't happen when two top teams face each other, but our history of matches have shown them to be an interesting watch as both teams really go for it," the German added. "Both teams want to use momentum, gaps and create momentum. We both look for gaps so I expect an interesting game.
Jurgen Klopp was happy to agree with Jamie Carragher that the rivalry between Liverpool and Manchester City is the best the Premier League has seen.

"In sport, what helps the most is having a strong opponent. In the long term, especially, that helps you the most. I'm sure (Rafa) Nadal and (Roger) Federer helped each other a lot. I'm not sure it would've been the case had they not had each other to compete against.
"I wouldn't say it's helpful [having City as a title rival], but it hasn't denied our development.
"I don't worry about the mentality of my boys. We've learned over the years to be in the game but after the match with Benfica they were aware it was now 'City time', and we will be prepared. We both played on Tuesday so we've had enough time to prepare for the game and recover. Let's go."
FREE TO WATCH: Highlights from Liverpool's win against Watford

City have acquired plenty of trophy-winning experience in recent seasons and triumphed in a similarly tight title race in 2019, when they won their last 14 games to pip Liverpool by a single point.
Sunday's game is treble-chasing City's second of four matches in an intense two-week spell that could make or break their campaign. It is followed by the second leg against Atletico in the Spanish capital next Wednesday and then another high-profile meeting with Liverpool, in the FA Cup semi-finals, the weekend after.
So will Sunday prove decisive in this season's Premier League title race?
"I can't decide what people think but we can just go through the possible results," said Klopp. "If we win, we're two points up. If we lose, we're four points behind. If anyone thinks, 'that's it' I cannot change it. I'm sure City won't be thinking this way. If it's a draw, we're one point behind. I'm really looking forward to the challenge.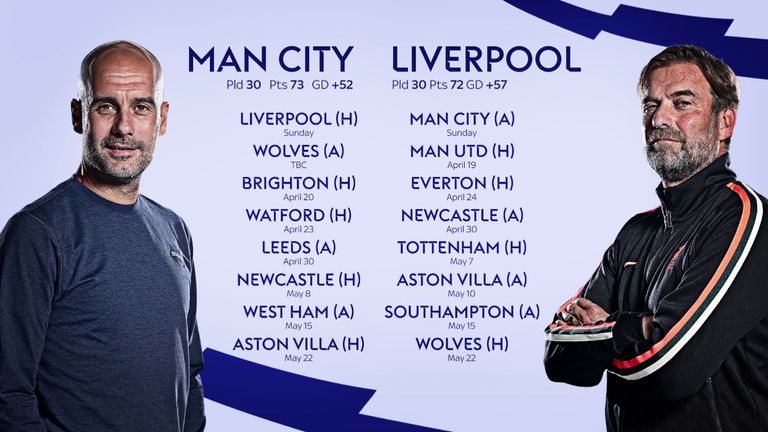 "We qualified for a great game with the season we've played so far, and I'm really happy we can be part of it and many people can watch it. We'll give it a try."
Writing in his column for the Daily Telegraph, Sky Sports' Jamie Carragher claimed Liverpool's rivalry with City is the 'greatest ever' in English football – beating the likes of Manchester United's battles with Arsenal and Chelsea in the '90s and '00s because they are 'the world's two best teams'.
Klopp was inclined to agree based on it being Carragher's viewpoint.
"Who said it? [Jamie Carragher]. Then yes! I've watched a lot of football in my life and I know about big rivalries. It's cool what's happened in the last four years when we've managed to step things up. We've managed to close the gap to City slightly and we push each other to incredible points tallies – madness – I didn't think it was possible in this league but the consistency both teams have shown has been crazy.
Football journalist Henry Winter praised Manchester City and Liverpool for the quality of this year's Premier League title race.

"The closer you get the more likely it is you can overtake but we know it's tough. What's changed in these four years is that anyone who faces us feels the same. It's tough."
As there is no room for manoeuvre or the slightest error Klopp knows the race will be far from over, irrespective of the outcome on Sunday – especially as his side have the harder-looking run in, with matches against Everton and Manchester United to come before the end of the month.
The morale-boosting 3-1 Champions League quarter-final first-leg win over Benfica has allowed them to put one foot in the Champions League semi-finals.
It means they make the short trip along the M62 brimming with confidence as they attempt to get their first league victory at the Etihad since 2015, although they have won there once since in a European tie.
FREE TO WATCH: Highlights from Manchester City's win against Burnley

"You have to prepare and then you have to show respect by the way you defend," continued Klopp. "There's no game in world football you can compare with games with Man City. They have no areas of weakness but it's football and the pitch is very big so you have to use your chances and the space to create.
"All you can do is try to deny them as best you can. If you give the best players space, that makes no sense. There's a lot to think about, but in the end I really hope I can help the boys to have all the necessary information but not too much.
"They need to be themselves and enjoy the game."
Klopp: Four years back I didn't believe we'd catch Liverpool
Klopp did not believe he could elevate his side to the level Manchester City were at when he arrived in the Premier League, but the last four years have proved him wrong.
Over 144 matches since the start of the 2018/19 season, City have won 108, drawn 14 and lost 22, accruing 338 points.
Liverpool have won 104, drawn 25 and lost just 15 times, making their total 337.
"It's great. I'm surprised about the numbers, to be honest. It's massive," said Klopp. "If somebody would have asked me four years ago – 2018 or whenever – do you think that's possible and you are that close? I would have said, 'Ah, not really'.
"They wouldn't have the points they have if we weren't there and the same if the other way around. We obviously pushed each other properly, that's the truth. It's nice.
"Man City is considered the best football team in the world and they got one point more than us – what does that say? Exactly.
"Obviously we did something right. I know that. I'm happy about that but it would be better if we had 20 points more in that period then we would have one more title or won more silverware.
"It's all fine how it is. That's the basis we created, let's go from there."
Guardiola: Jurgen makes world football a better place to live
Manchester City boss Pep Guardiola rejects the label of 'the best coach in the world' given to him by Liverpool manager Jurgen's Klopp.

Guardiola, meanwhile, has refused to describe Sunday's eagerly-anticipated Premier League clash against Liverpool as a title-decider.
Champions City hold a one-point lead over Klopp's side at the top of the table.
Guardiola said at his press conference: "I don't know. It will be a massively important three points but [there will] still remain seven games. Important? Of course it is."
Klopp has described Guardiola as the best manager in the business, but the City boss was modest when told about the compliment.
He said: "I didn't become a manager to be the best. I'm not. Thank you so much, but I'm not. I'd like to say I'm the best, but I'm not."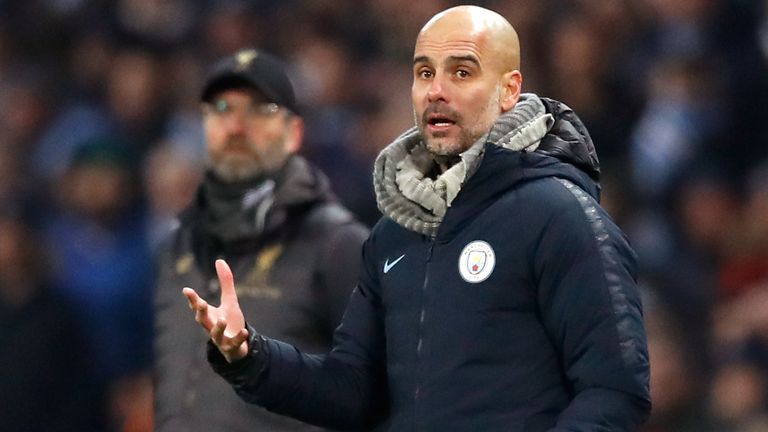 When it came to describing the strengths of his team, however, Guardiola was far more forthcoming.
The Spaniard said: "I'd say incredible things about my team. My team are the best. I like to admit my players are exceptional."
Guardiola also spoke of his admiration for Klopp.
He said: "Jurgen makes world football a better place to live. His message, a huge competitor. It's good. I try to have a good relation with all the managers
"I learned it's better not to have a relation with the others. He knows, we spoke together in Germany, the message and the way his teams play. He's a good guy and I don't have any problems with him."
Guardiola believes City's rivalry with Liverpool in recent years has been the biggest he has experienced in his career.
He said: "I admire what they do, how good they are. I enjoy this challenge.
"When I retire and watch and play golf I will remember the biggest rivalry was Liverpool."
Guardiola: I could stay at City forever… but I won't
Guardiola has claimed he is so happy at Manchester City he could stay at the club "forever". The Spaniard's current contract at the Etihad Stadium runs until the end of next season.
The 51-year-old has twice agreed fresh terms since taking charge in 2016 and has now indicated that he might be willing to do so again.
Guardiola dropped the hint as he responded to reports claiming that Brazil want him to take over as their national team manager after this year's World Cup.
"Not today, come on," he said when asked about the Brazil speculation at a press conference. "I'm under contract here, I am so happy here.
"I will not stay forever (but) I would (like to) stay forever here. There cannot be a better place to be.
"I could extend the contract 10 years, but I will not extend the contract 10 years. Now is not the moment, please. I don't know where it came from."
In a special edition of the Essential Football Podcast, Sky Sports pundit Jamie Carragher joins Ron Walker to discuss this weekend's crunch title-race clash as leaders Manchester City host second-placed Liverpool live on Sky Sports Premier League this Sunday.
Carra explains why the game may still not act as the title decider even with so little of the season left, why City and Liverpool have the edge in different parts of the pitch, why a draw might be a good result for both managers – and predicts how the Etihad showdown is going to go.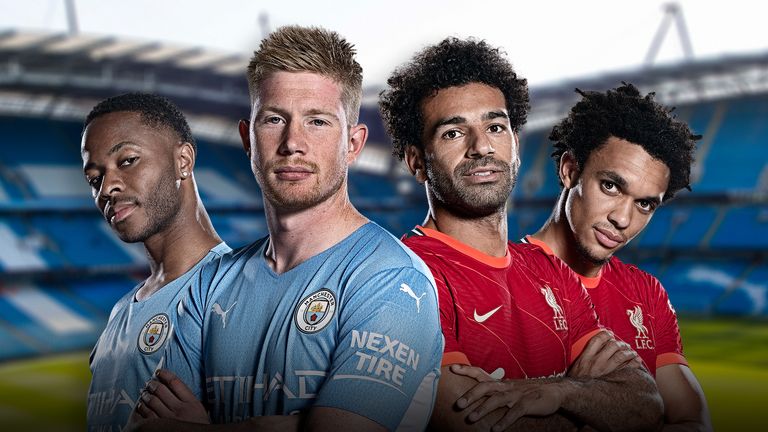 Manchester City's huge Premier League clash against Liverpool takes place on Super Sunday, live on Sky Sports.
With just one point currently separating champions City and Liverpool at the top of the table, the outcome is likely to have major implications for the title race.
Coverage at the Etihad Stadium starts at 4pm on Sky Sports Premier League & Main Event, with kick-off at 4.30pm.
There will be a bumper line-up in the Sky Sports studio with Gary Neville, Jamie Carragher, Roy Keane and Micah Richards all in attendance.