Procore Technologies (NYSE:PCOR) has served over a million projects in more than 125 countries, with 80% of its customers in the United States. The company has sustained rapid and sustainable growth in the last two decades. It is interesting to note that Procore Technologies recorded consolidated revenue of $ 4.8 million in 2012. However, in 2020, the company achieved $ 400 million in consolidated revenue, which was a significant growth within the space of eight years. Over the years, Procore has taken advantage of advanced technology to deliver comfortable profits to investors. The company is nevertheless set for another significant year by taking advantage of the ease of the global economy after the pandemic. The years ahead look bullish for Procore Technologies, Inc., and as a result investors might want to consider building a position as they begin another phase of growth.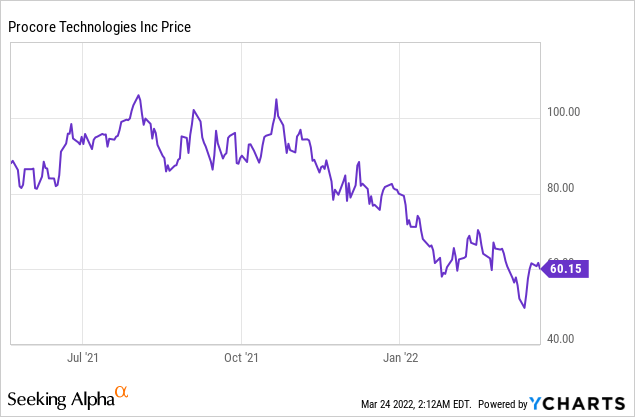 Procore Technologies Incorporated is an American construction management Software as a Service (SAAS) company. It is headquartered in Carpinteria, California. Founded in 2002, Procore Technologies is a leading provider of construction management software for medium and large-scale companies. Procore software helps property owners to take control of the construction with clear visibility into every step of the construction process. The company's software also helps contractors deliver on time and, most importantly, deliver on budget. The company's advanced project management technology technology boosts efficiency by connecting site and office for real-time visibility. It helps mitigate risk and make tough decisions easy using real-time data from the site. Procore platform can be used to have a real-time understanding of the financial health of a project, manage sites, conduct inspections, and all other incidents in one place.
Financial Performance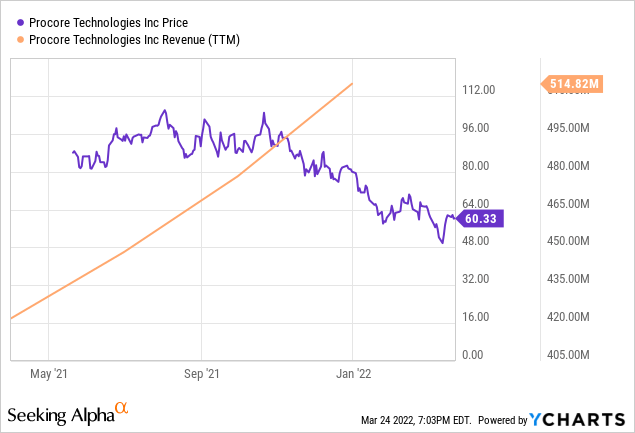 FY 2021 was outstanding for Procore Technologies. The company recorded a revenue of $ 515 million, and a 29% increase year-over-year. Procore's importance in the construction industry continues to grow as the California-based company ended the year with 12,193 customers. Over 2000 new organic customers were added in the last financial year. Procore achieved an increase of 32% year-over-year in its organic customers contributing more than $ 100 million in annual recurring revenue, while it achieved an increase of 50% year-over-year in the number of organic customers contributing more than $ 1 million of annual recurring revenue. To match the company's product demands and workload, Procore Technologies ended the year with an additional 2,572 employees. An increase of 34% year-over-year.
Q1 2021 was characterized with record results as Procore recorded $ 146.10 million as total revenue this quarter. This is a 33.4% increase on a year-to-year basis. Q2 2021 was another outstanding quarter for Procore Technologies, Inc. as the company witnessed positive performance in all aspects of its business. During this quarter, Procore expanded its customer base and entered new international markets. The company generated $ 122 million in this quarter, representing a 27% increase year-over-year. They completed their initial public offering, selling 10.41 million shares at a per-share price of $ 67 to raise $ 665.1 million. In addition, the company added 481 new customers in Q2 2021, expanding its footprint to Singapore and the United Arab Emirates. No doubt, Procore Technologies finished Q2 2021 strongly as the company also acquired an AI company powered analytics platform, 'INDUS.AI', to boost operations.
Similarly, Q3 2021 was not an exemption from Procore's outstanding performance. $ 132 million was generated as revenue during this quarter, a 30% increase year-over-year. Furthermore, Procore introduced several innovations to the company's products to address pre-construction. This greatly helped to increase its customers by adding 456, for a total of 11,605 customers at the end of Q3 2021. Procore thereafter consolidated its accelerated financial year growth with a solid Q4 performance. The company generated $ 146 million in revenue, a 33% increase year-over-year. In a continuation of its aggressive customer acquisition, Procore added 588 new organic customers in Q4 2021, ending the year with 12,193 new organic customers. The company's outstanding FY 2021 performance is associated with its new artificial intelligence products, enabling both construction owners and contractors to seamlessly and efficiently monitor and manage their operations seamlessly and efficiently. Procore Technologies, Inc. ended the year with the acquisition of Levelset in a deal worth approximately $ 500 million. The acquisition of Levelset will enable Procore to create a new platform or strengthen existing ones to further simplify lien management workflows for the construction industry.
Valuation and Growth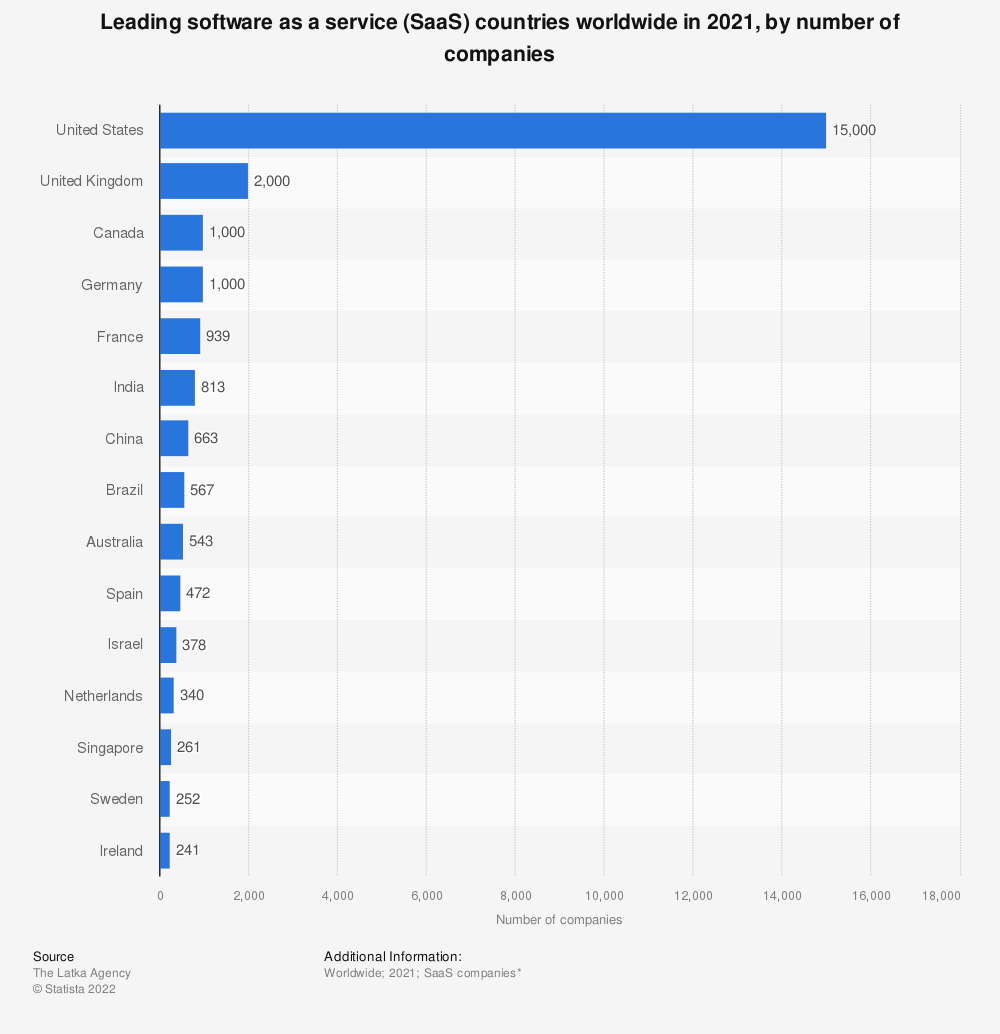 The United States Software as a Service Industry is the largest globally by a significant margin. The United States SaaS industry is worth over $ 100 billion, while the global SaaS market is estimated at approximately $ 171.9 billion with the capacity to increase to $ 225 billion in 2025. In 2015, the SaaS global industry grew from $ 31.5 billion to $ 171.9 billion in 2021. It is interesting to note that the SaaS industry has increased by 500% in the last five years. The United States has approximately 8x the number of SaaS companies compared to other countries. The SaaS industry is believed to be one of the most important tech businesses with a projected 17% annual growth in 2022. Most organizations with more than 1,000 employees have used several SaaS applications. Moreover, SaaS applications make up 70% of software used by companies.
The massive growth of the SaaS industry helps to enable the growth of Procore Technologies. Procore recorded nearly exponential growth within the last seven years. With more than 12,000 customers, the Procore platform has over 1.6 million users in more than 125 countries. Raising $ 634.5 million when the company went public through an initial public offering was a testimony to the industry's robust growth. Leveraging the importance of the SaaS industry, Procore Technologies has been able to raise enough capital to fund its business operations and acquisitions. Before the initial public offering, Procore Technologies had gone through a degree of growth by acquiring several tech companies that could help the firm achieve its long-term goal. The most significant of the acquisitions is Levelset, with the potential to give Procore more leverage in the construction payment system. To further strengthen its presence in all chains of the construction industry, Procore recently integrated with SmartCompliance for automated insurance tracking on construction projects.
Risks and Competitors
Procore Technologies is in a unique spot with regard to industry-associated risks. As a niche software company, they derive their growth from the construction industry, yet they do not experience the same amount of risk compared to other companies in the larger construction industry. This unique ability allows them to play both sides of the field and greatly mitigate risks. As a software as a service company, overhead and expenses have decreased compared to more traditional industries such as construction – instead, the main risk is in maintaining the constant influx of customers and products needed to sustain growth. For Procore Technologies, customer acquisition and retention associated risks are much lower as their primary customer, the construction industry, operates on a much longer project timeline, usually several years. The fact that Procore Technologies is a SaaS in this industry provided an unprecedented amount of security when compared to other software companies greatly reducing any risks and ensuring steady cashflows over many quarters.
With regards to risks from competitors, Procore Technologies' niche business model puts them in the unique position of not having any substantial competitors that are public companies of the same scale. The only company that could realistically be considered a competitor would be Trimble Inc (TRMB) which owns the subsidiary company Viewpoint Construction Software. Viewpoint is also involved in the construction software industry, mainly cloud-based solutions for managing all aspects of projects from expenses to employees. With that being said, in 2019 when Viewpoint was acquired by Trimble, their non-GAAP revenues only cost to approximately $ 200 million less than half of what Procore is returning now. In addition, as a subsidiary Viewpoint Construction Software is one of the smaller businesses of Trimble's larger portfolio of hardware and services for a wide range of industries from agriculture to telecom. With Procore Technologies having a recent IPO and 29% year-over-year revenue growth it is hard to imagine a small subsidiary of Trimble posing a significant threat to their market share, especially when considering that Trimble is much more diversified and thus less focused company on the construction software business.
Future Outlook
With the strong operation and financial performance delivered in FY 2021 and its recent international expansion into Europe and Asia, Procore Technologies, Inc. is in an excellent position to deliver another positive financial year and long-term growth. In addition, Dexel, a Canadian design-build multifamily developer, has chosen Procore Technologies, Inc. as its united construction management platform. Deals such as this will drive more international adoption for Procore products. Similarly, its recent acquisition, 'Levelset,' is strategic for both the short and long-term targets of the company. The integration of Levelset technology to Procore will give it more traction in the SaaS market.
Furthermore, construction, one of the largest industries in the world, has a huge market opportunity for Procore Technologies, Inc. The industry is estimated to reach $ 14 trillion by 2025. Subsequently, the company made $ 515 million as total revenue for 2021, which is $ 8 million above the company's target for the year. Procore Technologies has demonstrated considerable growth in the last five years, and institutional investors' optimism about the company showcases a strong company with positive long-term results. Undoubtedly, the shift to digital solutions in the construction industry is well underway. A combination of the company's strong fundamentals, a healthy balance sheet, and positive metrics signifies a bullish company for long-term investors.